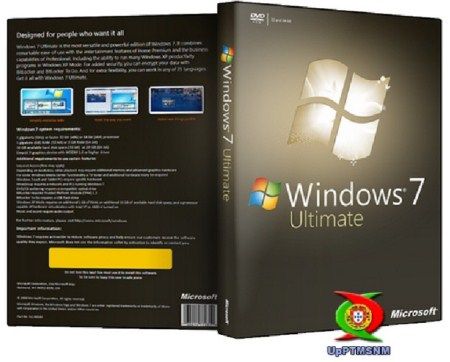 Windows 7 Ultimate Sp1 x86 Integrated Januari 2013 Integrated januari 2013
adalah
Microsoft
asli
windows 7
ultimate
SP1
(
32
-
bit)
ISO
dari Microsoft
.
Termasuk
update
Microsoft
sampai
2013/09/01
dan Internet
Explorer
9
.

- This release is the best you could find on the net, because Maherz made it just simple:
* NO tweaks or add-ons.
* NO additional programs and software added.
* NO graphics, scripts and wallpapers added or changed.
* It's the original image from Microsoft except added updates and IE9!
- System requirements:
* 1 gigahertz (GHz) or faster 32-bit (x86) or 64-bit (x64) processor.
* 1 gigabyte (GB) RAM.
* 16 GB available hard disk space.
* DirectX 9 graphics device with WDDM 1.0 or higher driver.
- Homepage:
Microsoft Windows 7
- Hashes of ISO file:
* CRC32: 17EC189E
* MD5: 4441B59A762716B955B044E1627155D2
* SHA-1: 672221136E904459658DFAE407B9B0AE88B6DD9C
- Instructions:
1) Extract compressed files.
2) Burn ISO file into a DVD with MINIMAL speed.
3) Install as normal. When asked for a key leave it empty.
Semoga Bermanfaat, ^_^
Link Download

Single Link
Windows 7 Ultimate Sp1 x86 Integrated Januari 2013 Integrated januari 2013(2.55 Gb)
6 Part
Windows 7 Ultimate Sp1 x86 Integrated Januari 2013 Integrated januari 2013(2.55 Gb)
Note : Agar teman-teman dapat mendownload di Turbobit menggunakan fitur premium, silahkan gunakan Turbobit Premium Link generator di bawah ini. Cukup copy pastekan saja Link Download Turbobit dan click generate. Kemudian click link hasil generate yang berada di page bagian bawah. Semoga Bermanfaat, ^_^

Turbobit Premium Link Generator